A particularly vivid and impressive summer begins in the Sun World Ba Na Hills, and a series of festivals "Bana Wow Summer Season" brings the multinational culture atmosphere, until August 2023.
Following the successful Songkran Festival (Thailand) in April, Sun World Ba Na Hills continues to provide unique festivals from countries such as Germany, South Korea, and France this summer, bringing new and impressive experiences to tourists of all ages.
"Fun without distance" with B'estival Beer and Food Festival
At this moment, with the proliferation of signs of a hot summer in May, visitors to Ba Na will be "refreshed" with the B'estival Food and Beer Festival, which has become the exclusive brand of Sun World Ba Na Hills. Here, tourists can not only enjoy delicious German beer, but also famous cuisine from many countries around the world, immersing themselves in vibrant music, while also gaining countless other impressive experiences, such as participating in the drinking and eating challenges, becoming the "King of Beer'', "King of Mukbang", and so on. Checking-in at the colorful streets of banners or the "giant" beer tents are also unforgettable experiences of B'estival. This festival lasts until August 2023.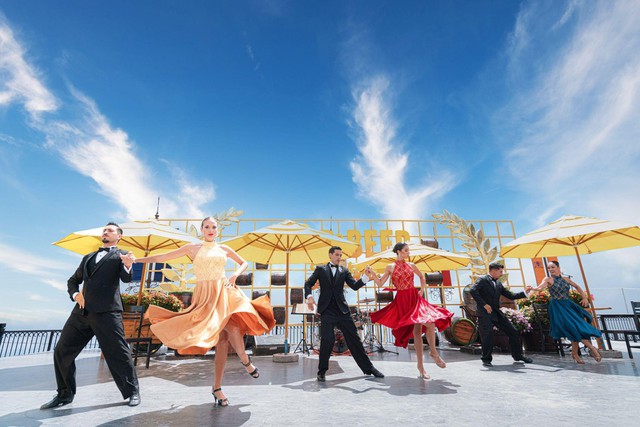 This June, all customers over 18 years old will be given one 330ml glass of German draft beer to immerse themselves in revelry and enjoy the festive atmosphere.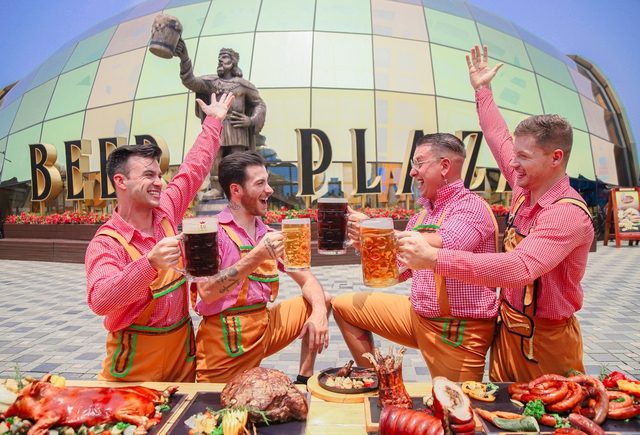 A series of unique experiences with Korean Festivals
Entering the shining moment of June, Da Nang International Fireworks Festival - DIFF 2023, and Sun World Ba Na Hills will turn into a paradise of events and festivals.
The most eye-catching event may be the Korean Cultural Festival held from June 1 to June 30 at Eclipse Square, where a series of new and captivating activities are held, such as the Chicken & Beer Festival with attractive combo deals and free beer for tourists age 18 and over; Mukbang Challenge: Chicken - Beer combo challenge; Kpop Dance Kontest on Tiktok; Minishow Kpop with top dance groups, covers of hits from the land of Kim Chi, etc. In addition, there are countless unique and fascinating games with the strong colors of Korean and Vietnamese culture.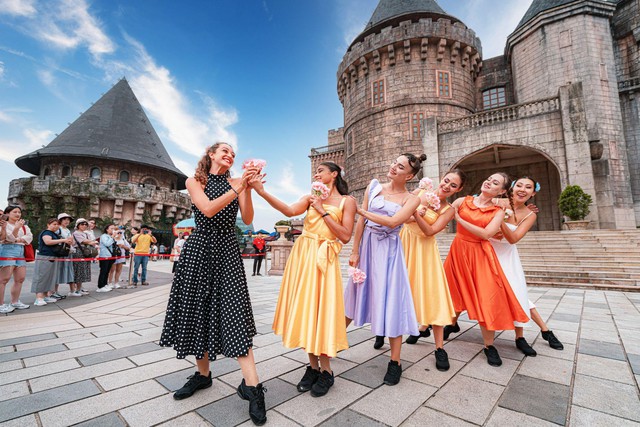 In particular, on June 24, an impressive Flashmob performance will be held in Golden Bridge to spread the message of "a world without distance", with the participation of 100 Korean and international tourists.
At the same time as the Korean Cultural Festival, the Lighting Festival will be held in Sun Castle from June 13 to the end of September 2023. Watching the sunset and waiting for the night to fall in Ba Na Hills, tourists will enjoy the lighting performance of 3D map technology for the first time against the backdrop of an ancient castle.
Fall in love with Ho Ngoc Ha's love song, French Cultural Festival, and six special minishows
Also in June, on the evening of the third, the music night "Love Songs - Love Vietnam" by singer Ho Ngoc Ha will add charm to the series of summer events at Ba Na Hills. In Moonlight Square, in the mysterious space or fairy tales of ancient castles, Love Songs is expected to become a first-class highlight, making Ba Na a unique destination for musical nights.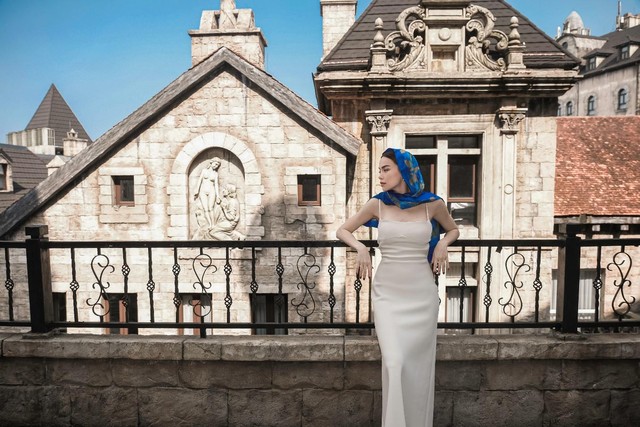 In July, it promises to bring new experiences of French cultural festivals to tourists on the occasion of the 100-year anniversary of the Debay Wine Cellar. Tourists will have the opportunity to reminisce about Ba Na a century ago, enjoy the rich experience of French culture, taste cuisine, and street art, and dress up as European nobles at luxurious banquets.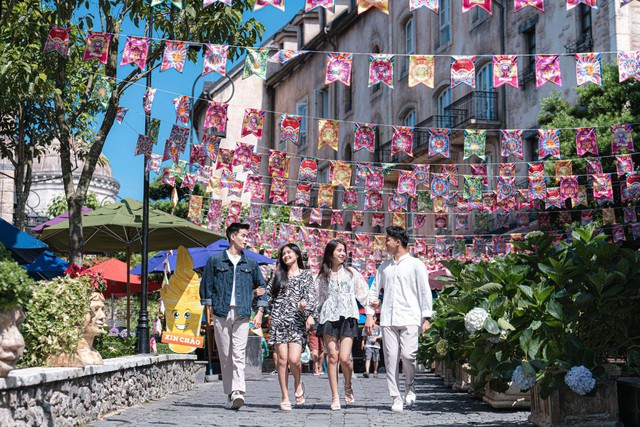 In addition to charming festivals from many countries in the world, the ancient space of Ba Na Hills is still full of endless summer festival atmosphere, with six special mini-shows held in different places and time periods from October 5 to August 31. Six mini-shows, which made their debut in public this summer, will lead tourists into a fantastic world, where magical angels appear, representing Gold, Wood, Water, Fire, Earth, and Wind.
Each minishow will be a unique performance of fairies with different personalities and styles. The Earth fairies represent joy, strength, and the mission of protecting beautiful nature; They will make tourists unable to help but move with vibrant dances, Malambo drumming, or twirling. The Fire fairies will make the party more fun and colorful with a multi-style dance performance with a fast, vibrant tempo. Representing the reproduction of all things in spring, the Wood fairies will bring free dance inspired by modern ballets. And especially young people will be very attracted to the dance repertoire that blends both contemporary and classical ballet and a bit of the hip-hop street style of the Water fairies in a soft, flexible, and mysterious style. Meanwhile, the Metal fairies will show their keenness and strength through contemporary dances, aerial silk and eye-catching circus ring performances. Finally, regarded as the angel in fairyland, the Wind fairies will perform classical dances and impressive acrobatics.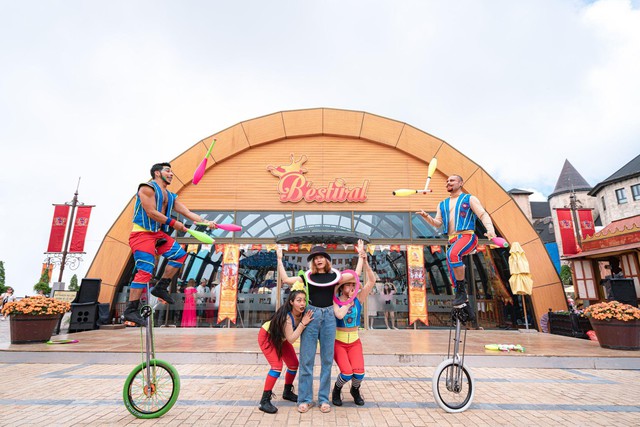 Tourists will also always be immersed in the festive atmosphere non-stop with street art performances such as circus, slide, stilts, drums, etc., throughout the points of Ba Na Hills.
"The Summer Festival series is part of the Ba Na Wow Summer Festival event, implemented by Ba Na Hills, in conjunction with the Wow Danang movement initiated by Sun Group, and in response to the Da Nang International Fireworks Festival - DIFF 2023 season. We expect that this will be a series of festivals that brighten up visitors with a fresh image of Ba Na, filled with the joy of four seasons with many experiences for the first time in Vietnam" - Mr. Nguyen Lam An - Deputy General Director of Sun World Group, Director of Sun World Ba Na Hills, said.
As Mr. An said, Ba Na is still planning a series of other interesting things, not only this summer, to make tourists say 'wow' from one surprise to another.